My friend Shey called me yesterday to say he'd heard a rumor that the fledgling coffeehouse and art gallery in town, Café Frida Gallery, was finally opening on Thursday, January 16, and he was going to check it out. I said I wouldn't miss it and true to his word he rang me this morning saying, "I'm here and it's happening!"
So I headed over to meet him at the same place where I used to spend many days at my writing studio and literary salon in the SofA Arts District of Santa Rosa at 300 South A Street, in the space formerly occupied by Atlas Coffee Company, which had permanently closed in October 2018.
Two months later, Mario Uribe, an artist with a well-established studio and gallery in the arts district, took over the space and began the long process of turning it into his vision of the sort of cafe he wanted to operate in the neighborhood.
It's been a year in the making, during which time I've lamented the loss of an artistic and cozy place to hang out with my friends and converse on meaningful subjects. I've been searching for that special place to go and gather with others and make human connections in the real world and Café Frida Gallery is just the sort of place I would want to create if I had the means and the motivation. A place I could also kick it with a book or write when I wasn't with others.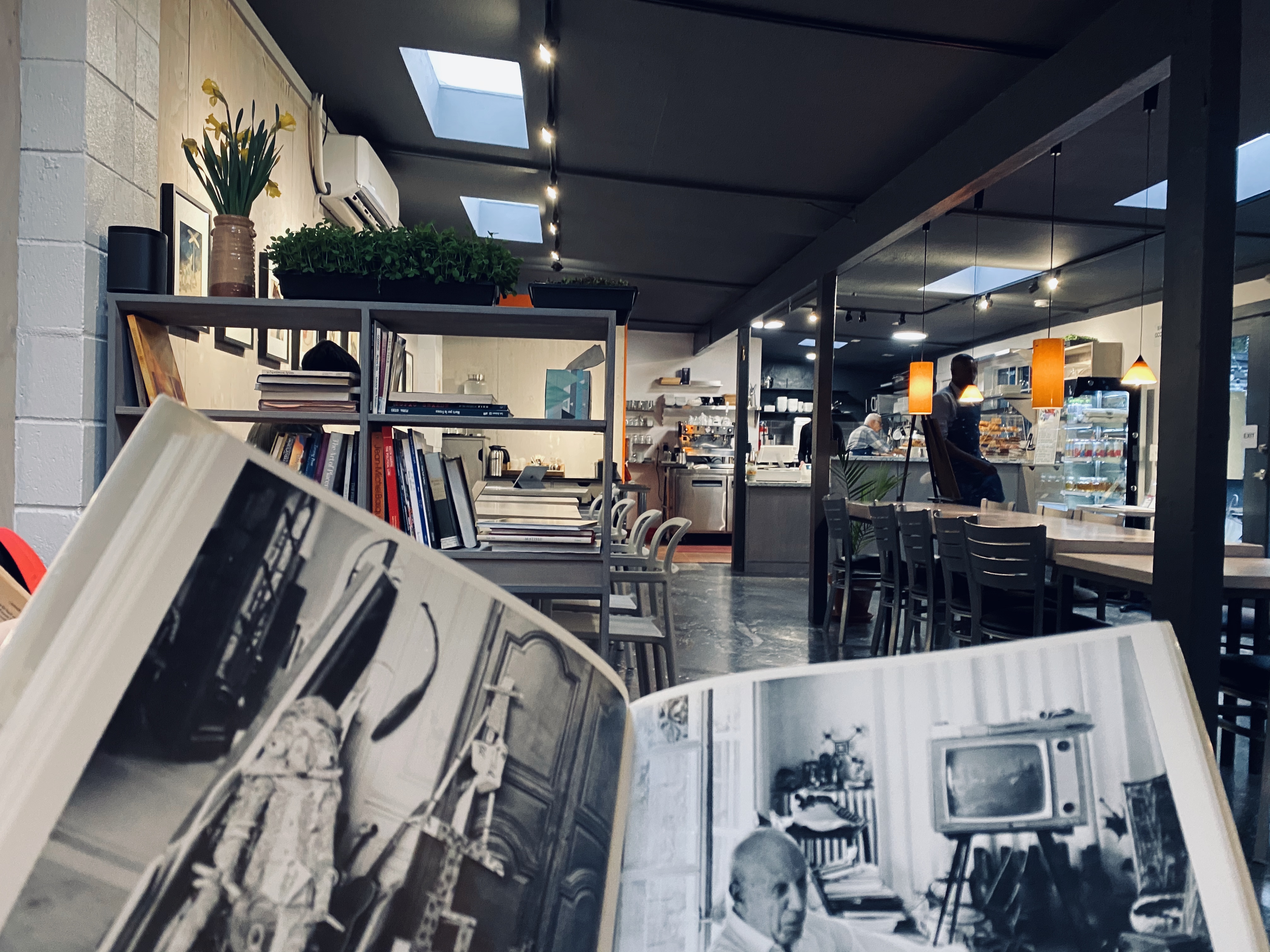 As soon as I arrived at the café I could tell I was in my home away from home. The joint looks swell and there's a chill vibe in the air with jazz music playing over speakers, art on the walls, and a single bookshelf filled with art books—from various indigenous artists around the world to books containing works by old familiar names like Picasso, Hockney, and Parrish.
Mario is working in the café today, along with his son-in-law, Mamadou, and their friend Alex, shown below.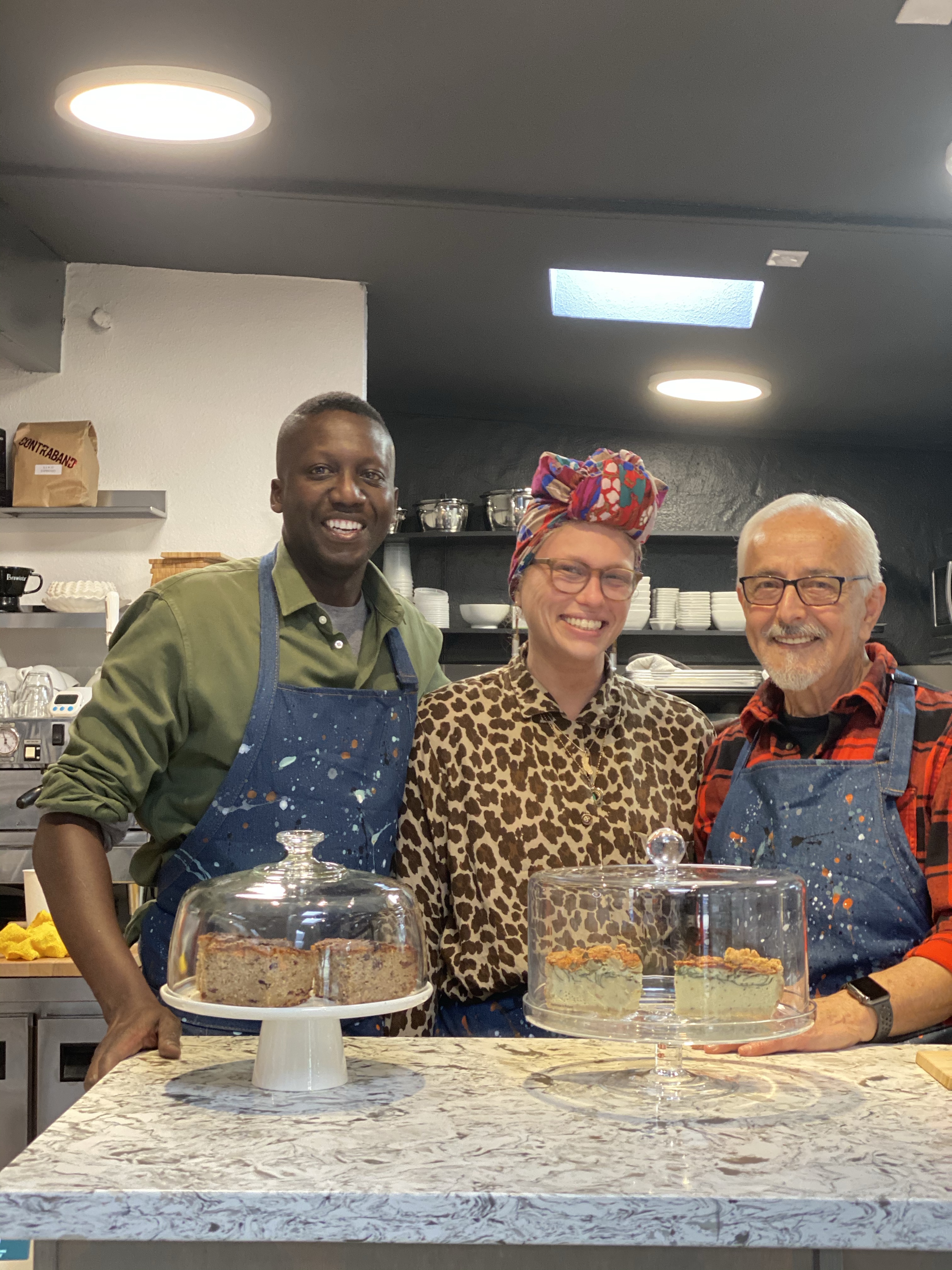 Mario's daughter, Andrea, is also here today and she tells me about the large portrait on the wall that Mario painted of Frida Kahlo standing before a field of giant-sized orange and white calla lilies and flanked by local hero, Luther Burbank, and her legendary husband, Diego Rivera. The artwork overlooks a cozy lounge area that appears to be able to seat three or four people in comfort next to the bookshelf.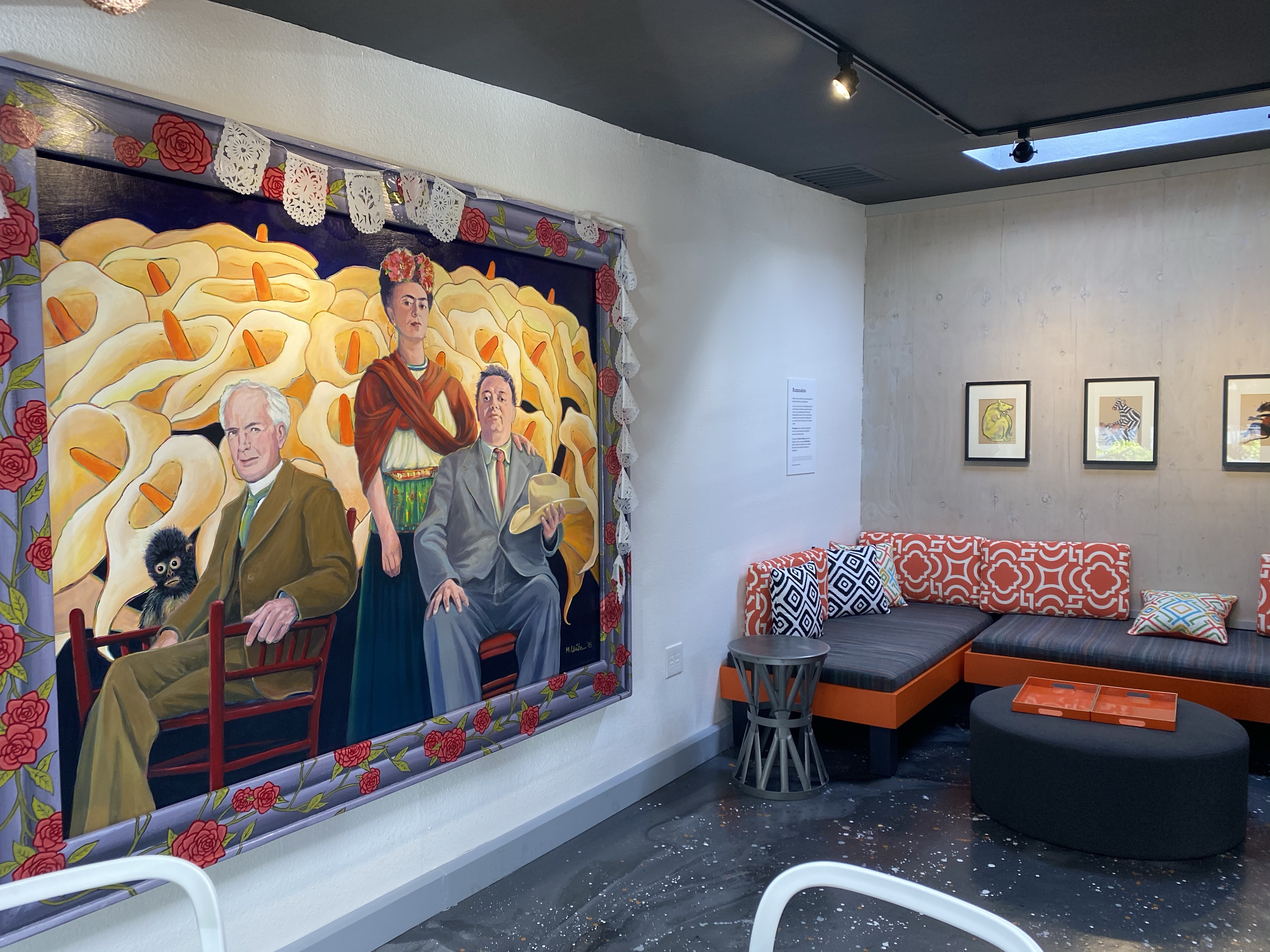 A long table in the center of the café seats 10-12 people; perfect for conferences or just a random assortment of writers tapping away on their laptops. There are outlets to plug in power cords for eight laptops but you can bring in your own power strip if you need more. In fact there are power outlets everywhere in the café.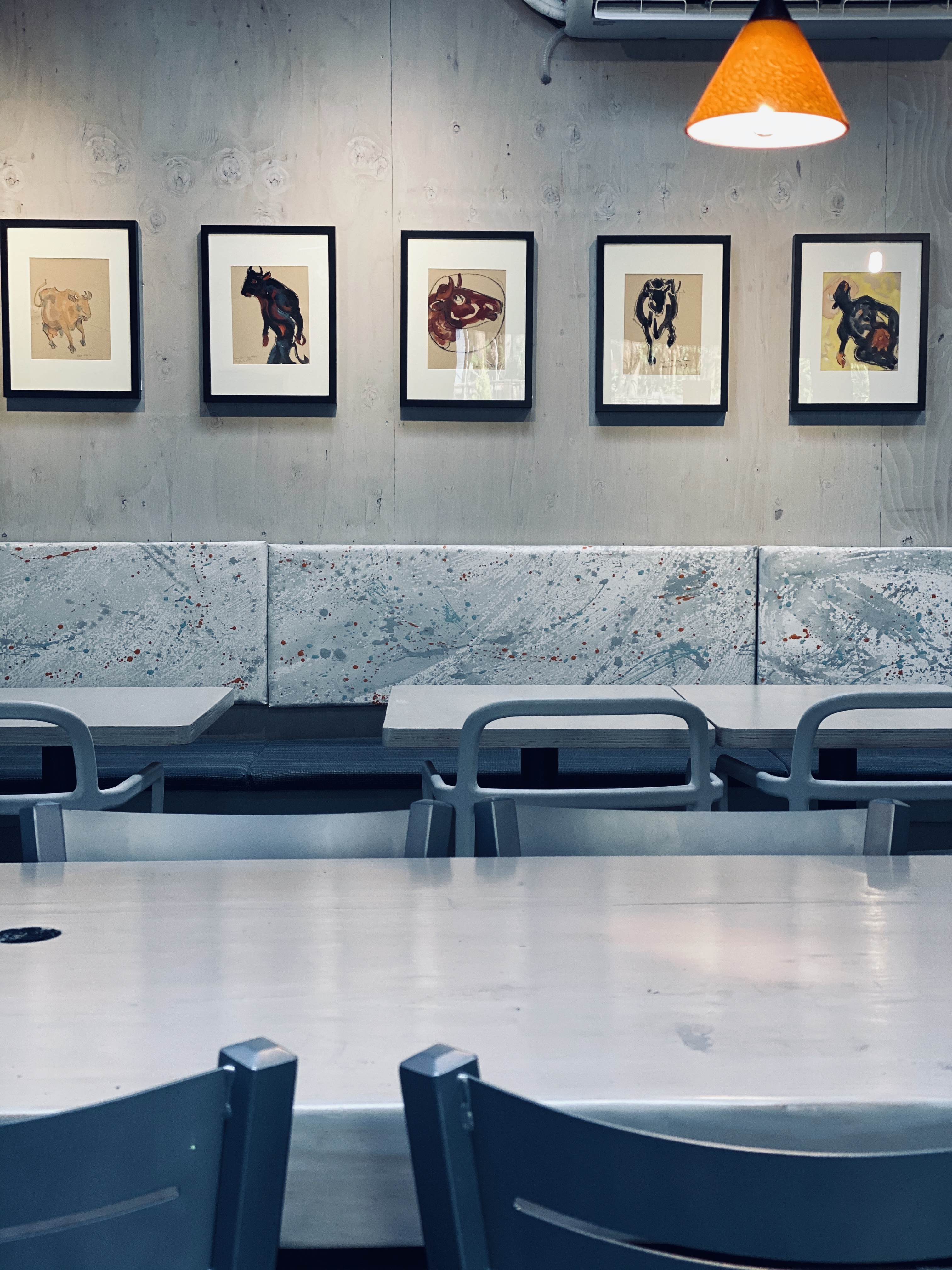 Eventually, the food menu will expand to reflect the culinary identity of an actual cafe but for now there's a small nosh menu with savory and sweet pastries from Dawn Zaft's nefariously yummy Criminal Bakery. A plethora of teas. And, naturellement—an espresso machine playing all your caffeine favorites.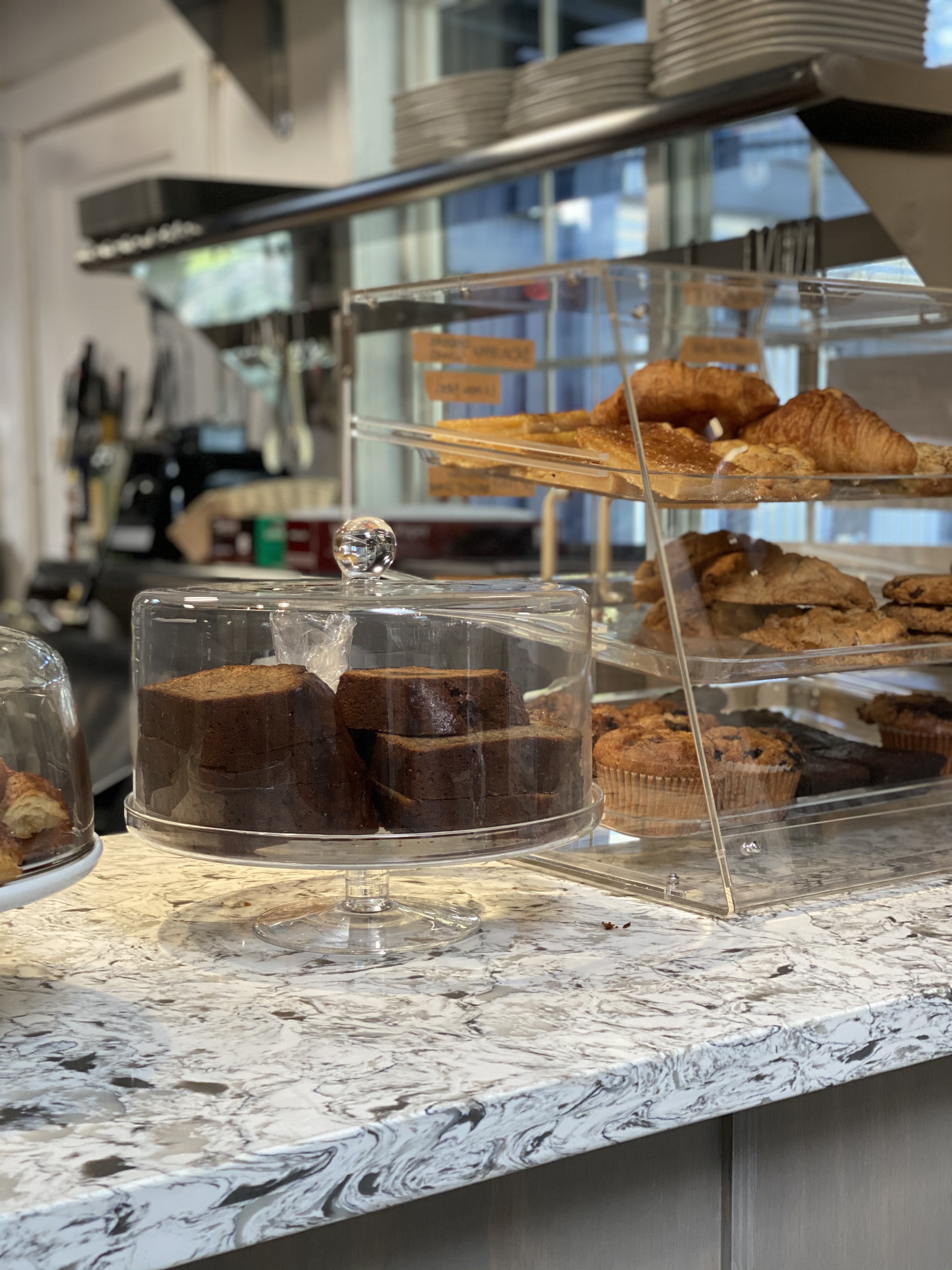 Currently, a sidewalk sign stands near the building facade by the walkway during business hours to guide passersby strolling on A Street, as the café is tucked behind the 300 building and to the right of the courtyard as you walk down the access path I've always called Atlas Alley. A more permanent form of signage for Café Frida Gallery is in the works.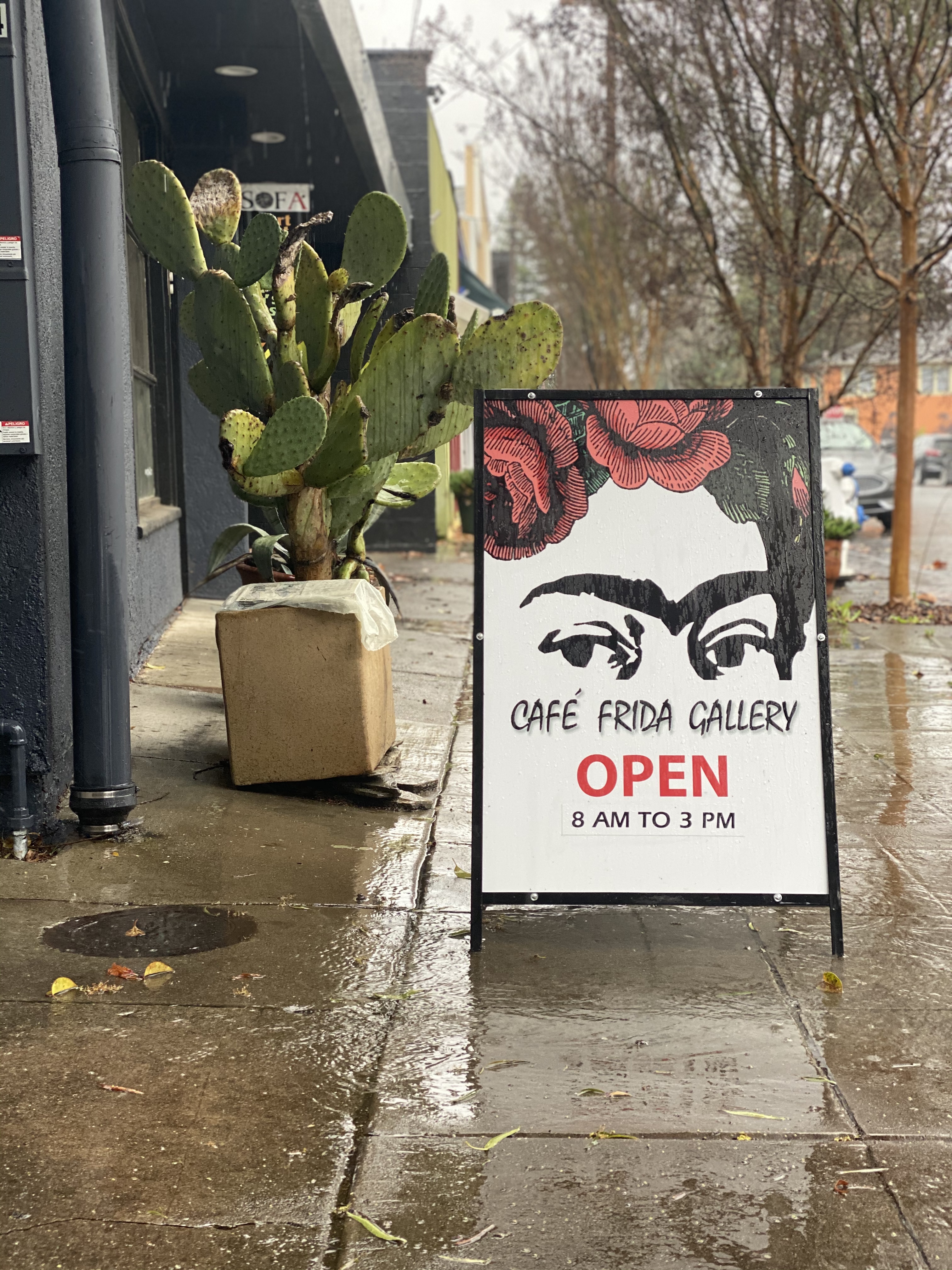 Check it out for yourself. There's seating for thirty-three with some extra standing room inside and even more seating in the courtyard. Currently, and through mid-February, the café is open from 8 am to 3 pm Thursday-Sunday.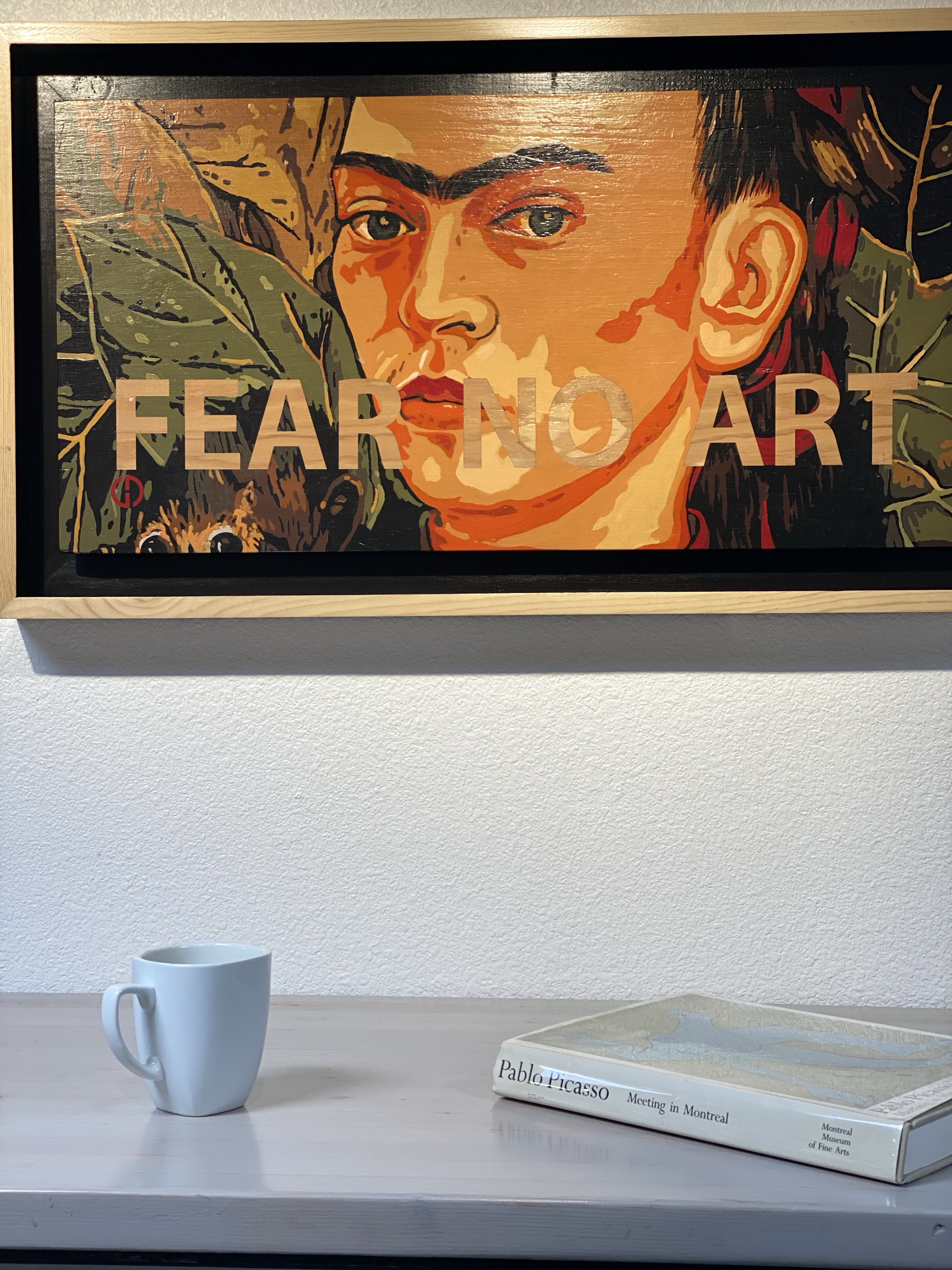 Café Frida Gallery
300 South A Street #4
Santa Rosa, California 95401
(707) 308-4344
Readers can also share this article on Facebook and Twitter.