It's raining today in my corner of California and rain always makes me think of the blues. And the blues, plus the rain, makes me think of Oregon—where I grew up during my teen and young adult years in a city called Eugene.
I was 13 in the summer of 1977 and still listening mostly to The Beatles and The Who, but I was getting tired of all the usual stuff I listened to and was primed for some new music. Billy Joel's The Stranger had recently been released and it was fast becoming a favorite. Then I discovered Mississippi John Hurt and Lightning Hopkins and was instantly hooked.
Later that same year, a movie called Animal House was being filmed in town and it's star, John Belushi, met a local blues artist named Curtis Salgado, who was playing a gig at the Eugene Hotel with his band, The Nighthawks. That meeting was the spark that inspired the first appearance of two characters named Jake and Elwood Blues on Saturday Night Live, which spawned a couple of hit singles that were played frequently by radio disc jockeys.
A couple of years later in 1980, The Blues Brothers was a hit movie and the soundtrack for it became hugely popular, especially in Eugene. The film reinvigorated the careers of soul and blues legends such as James Brown, Cab Calloway, Ray Charles, and Aretha Franklin, to name just a few.
1980 was the year of the blues and it was also the year that Eagle Park Slim came to town. Slim's motto was "ain't no time to hate" and his mission was "peace through music." He's one of the many hard-working blues musicians in the country that never achieved fame and in my opinion it's a damn shame.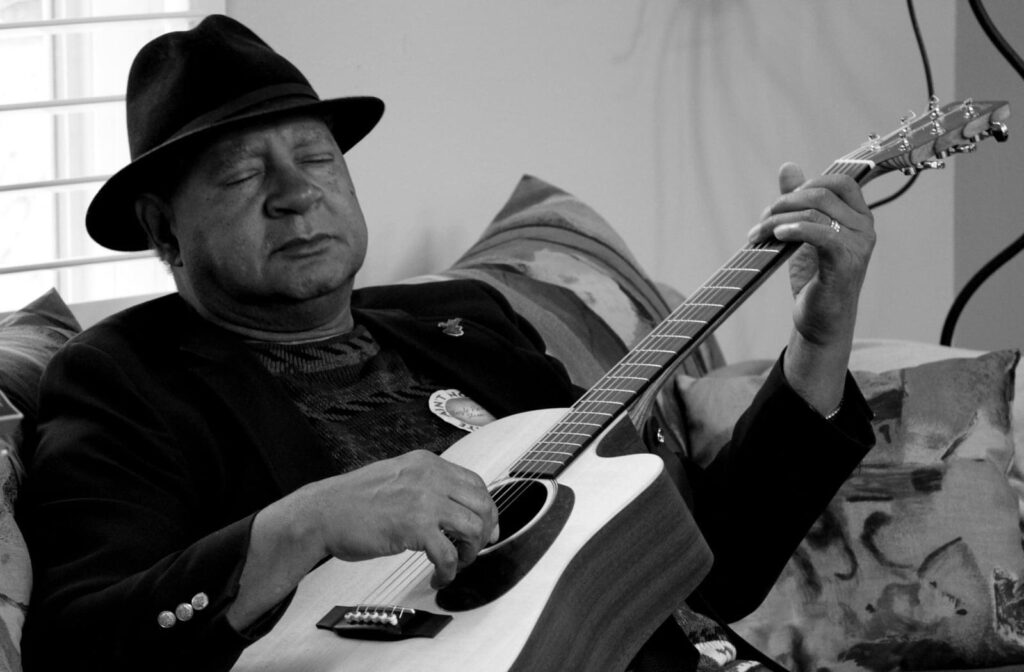 Eagle Park Slim was thirty-eight years old when he moved from Colorado to Oregon and he got to work immediately as a blues busker. Slim was a seasoned professional that immediately made himself at home playing on the streets of downtown Eugene and around the university campus. Soon he was booking gigs in coffeehouses and bars and at the Eugene Saturday Market, with just a guitar and a kazoo.
Autry McNeace was born on January 11th, 1942, in Eagle Park, Illinois. He grew up with the blues and started playing at his mother's club, The Village Tavern, in 1954. I don't know when he took on the name Slim to go with the name of his city of birth but he was still in Eagle Park in the 1960s, working a regular gig on Sundays at Leo's Tavern, playing guitar with Little Walter J. & His Hard Working Phantoms.

Slim expanded his territory to East St. Louis and across the river in St. Louis, playing with blues pianist, Johnnie Johnson. During his lifetime, Slim would also play along with Chuck Berry, James Brown, Muddy Waters, Jimmy Reed, Sonny Boy Williamson, Percy Mayfield, Ike Turner, Little Walter, Joe Cocker, Keb Mo, and The Red Hot Chili Peppers. I'm sure I've left out many other famous and well-established artists.
In the 1970s, before he settled in Eugene, Slim moved to Colorado, and Eagle Park Slim & The Mile High Blues Band were the house band at an after hours club in Denver, with a regular gig Thursday to Saturday from 11pm to 3am.
I was fourteen or fifteen when I first met Slim and heard him play the blues and I got to know him better after I graduated from high school, when I was working at Prince Pückler's, an ice cream parlor with one shop at 8th & Willamette downtown and another on 13th Avenue, across the street from Poppi's Greek Taverna and Lenny's Nosh Bar. I worked at both locations and I always treated Slim to a cup of coffee whenever he came into the one of the shops.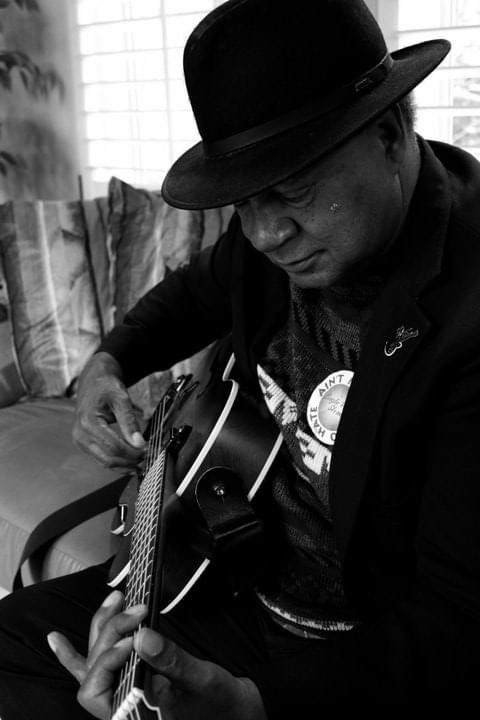 The free coffee for Slim continued over the years and our conversations continued when I worked at the Coffee Corner kiosk at 5th Street Public Market in the mid-eighties. My jam on the boom box in the kiosk was usually blues (I was also obsessed with Joe Jackson's Jumpin' Jive) and I think he appreciated my musical taste when he sat at table in front of the kiosk. If it wasn't Slim sitting there it was often Steve Ibach and Teddy "Honey Boy" Roy of The Soulsations, a new group they had formed with my pal Joe Lewis that was swiftly becoming the hottest band in town.
In those days you could go out almost any night and hear the blues played live for free or so cheap that it didn't matter. There was a Monday night Blues Jam at Old Taylor's on campus that you could see for fifty cents. I wasn't hanging out with friends at Lenny's Nosh Bar I was probably out somewhere else listening to the blues.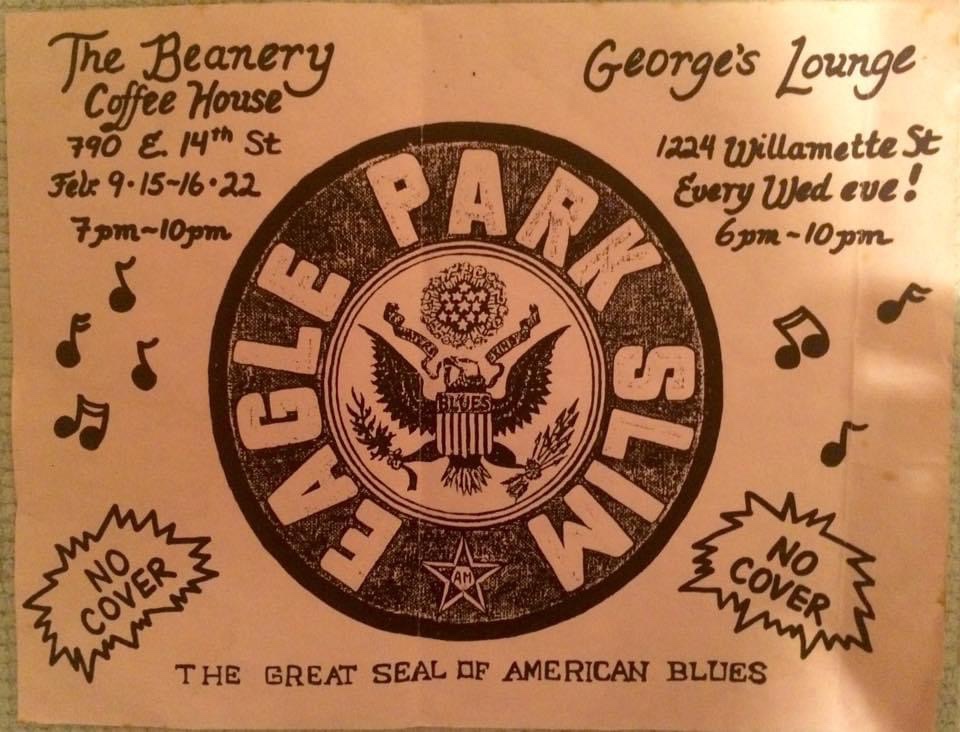 And Eagle Park Slim always seemed to be around—a warm presence that made everyone around him feel happy. It's funny, blues has a rep for making people feel sad but hearing Slim play the blues was more like the antidote for sadness.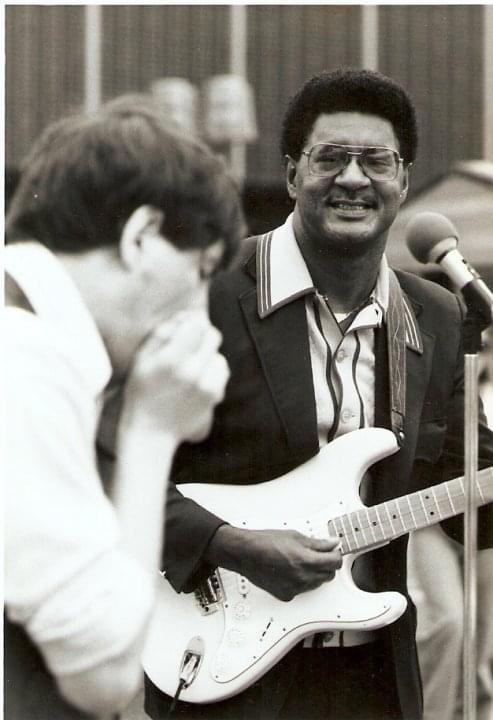 I recently called Slim's long-time friend, Jan Brown, and asked her to share some recollections for this piece I'm writing. She told me she met Slim in 2002 at a bus stop and he was boldly flirtatious, singing a Lou Rawls song to her while they were waiting for the bus. Not knowing he was a professional, she complimented him on his singing voice, and he introduced himself and gave her a flyer advertising his next gig with The Vipers, a group he played with that also featured the aforementioned Steve Ibach from the defunct Soulsations.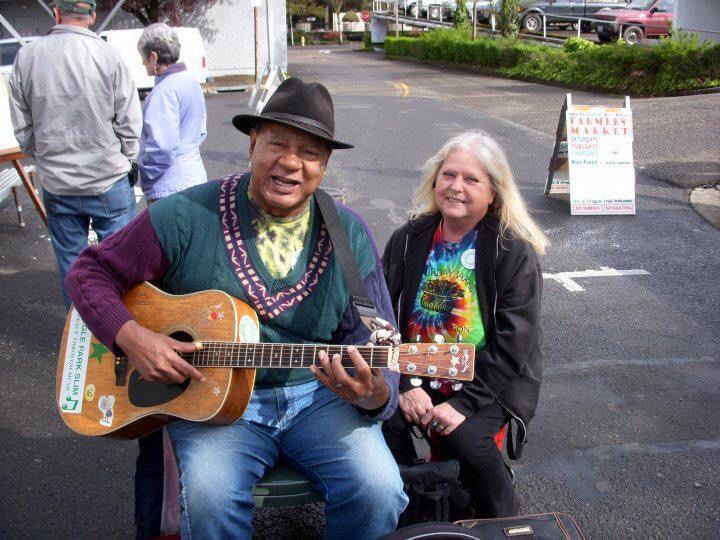 Jan said she was a busy single mom at the time, and didn't get out much to hear live music, but she recognized his talent immediately. They rode the bus together and before he got off at his stop he gave her his phone number and told her to give him a call sometime. Later that day, at the adult foster home where she was working as a caregiver, she showed the flyer to a couple of women and they both squealed with excitement. They were both Eagle Park Slim fan girls. So, at their urging. Jan called Slim and went out to see his show. It was the beginning a beautiful friendship and partnership that lasted for twelve years—until they parted amicably in 2014.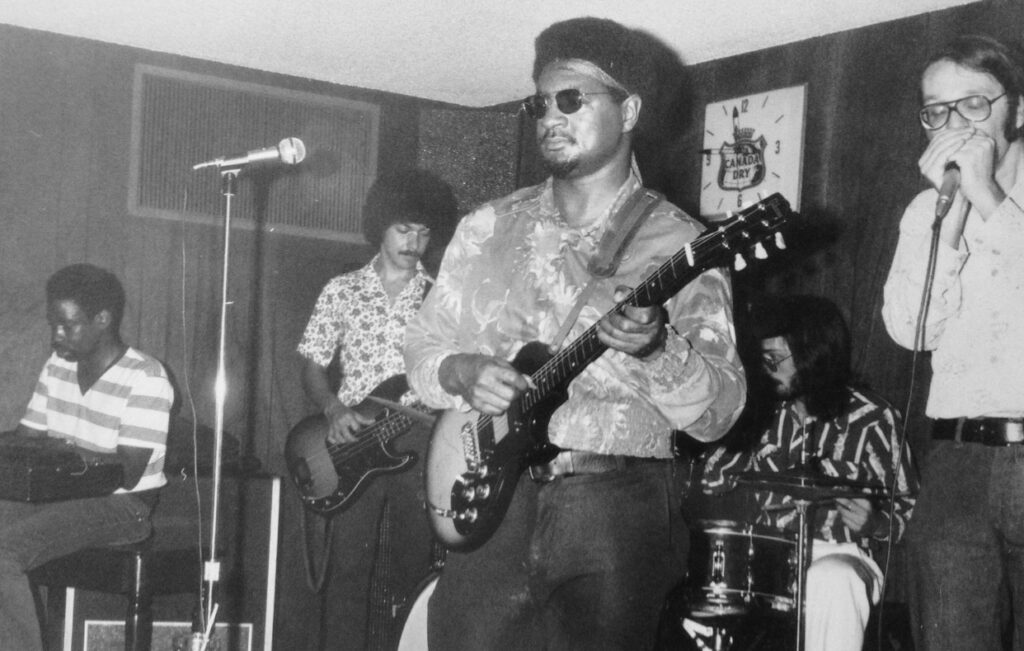 I also called Slim's friend, Randy Layton, who released Slim's first professionally produced album, Northwest Blues, a 1998 CD that had the appearance of a vinyl record from the 1960s. Randy wanted to give Slim an album to sell when he was busking—one that looked professional—and it was an album that Slim owned outright after the first pressing. The album has 22 tracks that Randy says "was pretty much a compilation of cassettes he gave out in the streets in the early days of busking." Randy (also an accomplished writer) wrote the liner notes.
A few random things about Slim:
He frequently wore a fedora, like any self-respecting blues man, and quite often a tie-dyed shirt with dress pants. Like a true Eugenean, he loved his tie-dyed shirts and he had a multitude in his closet.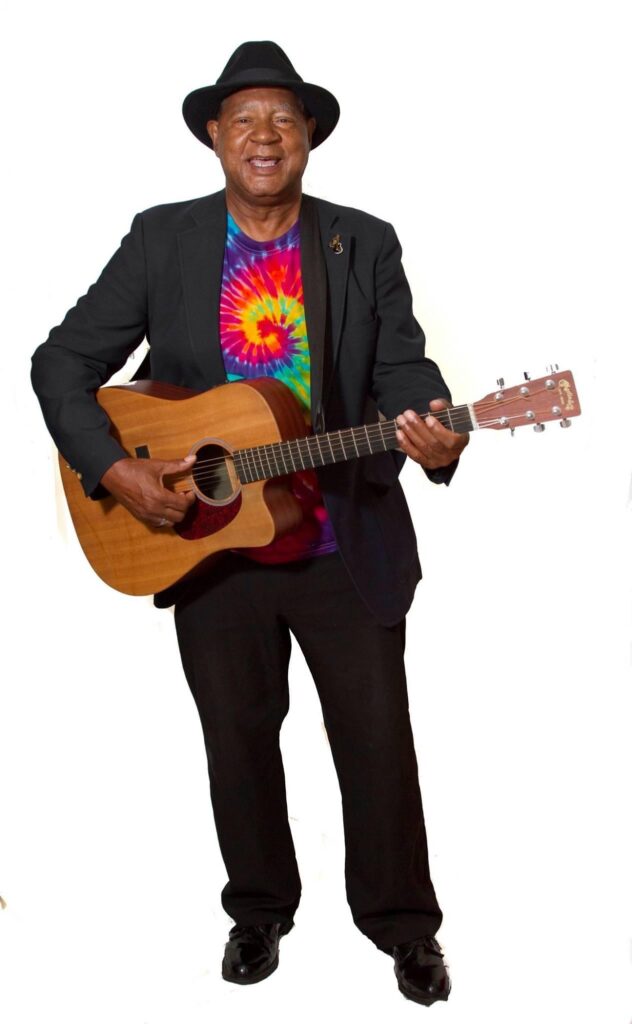 He usually arrived to his evening gigs by taxi. Often a friend would drop him off at a street corner when he was busking. If he was playing at a bar and you offered to buy him a drink he might accept a snifter of brandy.
At home, he had a poster of Jimi Hendrix on his wall and another picture of Jimi in the window near the recliner where he always sat. Jan says that Slim revered Hendrix.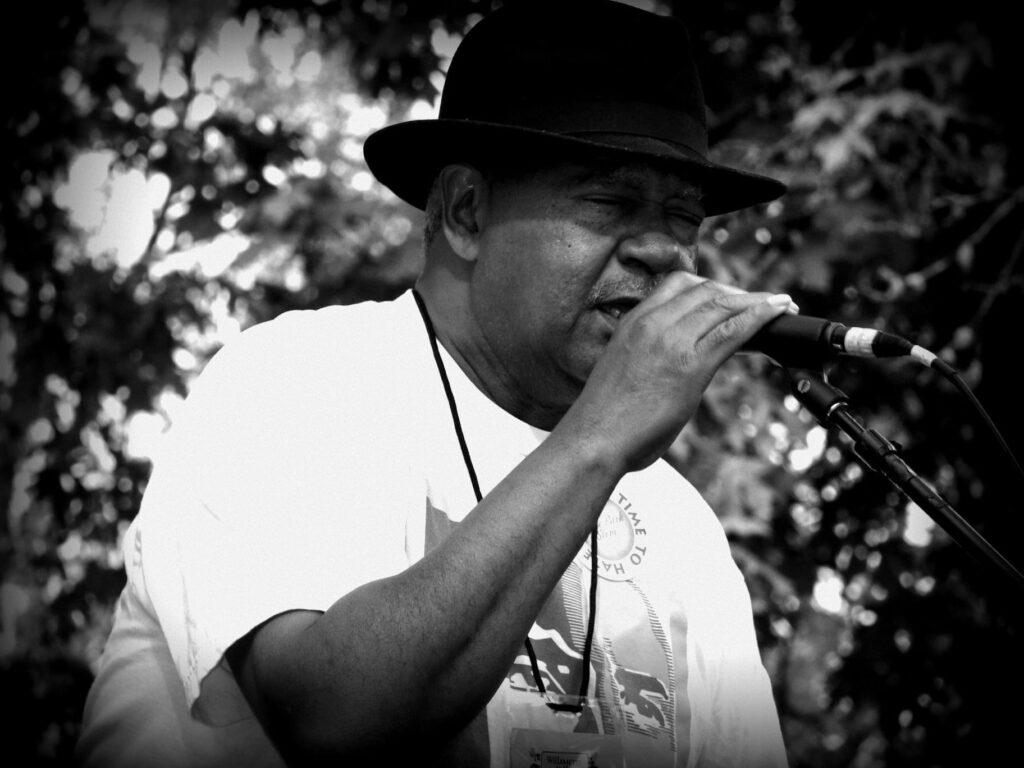 One last thing of interest I should mention. Eagle Park Slim is remembered by many in Eugene as the first person they met when they arrived. And most of those people will tell you how much they loved him, and talk about the impact he made on their experience in Eugene. And Slim loved them back. And, most of all, he loved Eugene.
***
It's a year later and I just found my notes from the January 2022 call I made to Jan Brown. I might roll some of this stuff into another revision of this piece but for now, here's the raw material, if anyone is interested:
Slim mentored a young musician named Andy Strange who would later have a band called Andy Strange and the Strangetones. Slim was very proud of Andy.
Slim loved the ladies that danced at his shows.
Slim and Jan never lived together but they were in a relationship for awhile. Whenever she left after visiting him he sang "Hate to See You Go" or "Baby Don't Leave." Sometimes he called her his wife because he didn't want to call her his manager, though she did a lot with helping him with booking shows. Jan learned how to use a computer from helping Slim put together flyers and book shows. Jan said it gave her a purpose. "He gave me a reason to learn to use a computer."
Slim was cautious about playing in Springfield. Once, he and Jan were looking into booking a show in Springfield and they were walking through downtown and he said, "Don't hold my hand." He had experienced some racism in Springfield and was cautious about appearances.
He always liked to play with his band on his birthday.
Slim had one son, who lives in Denver.
He was always excited when he was on television. He'd bring over some black velvet cake to share and some chicken wings from Dairy Mart.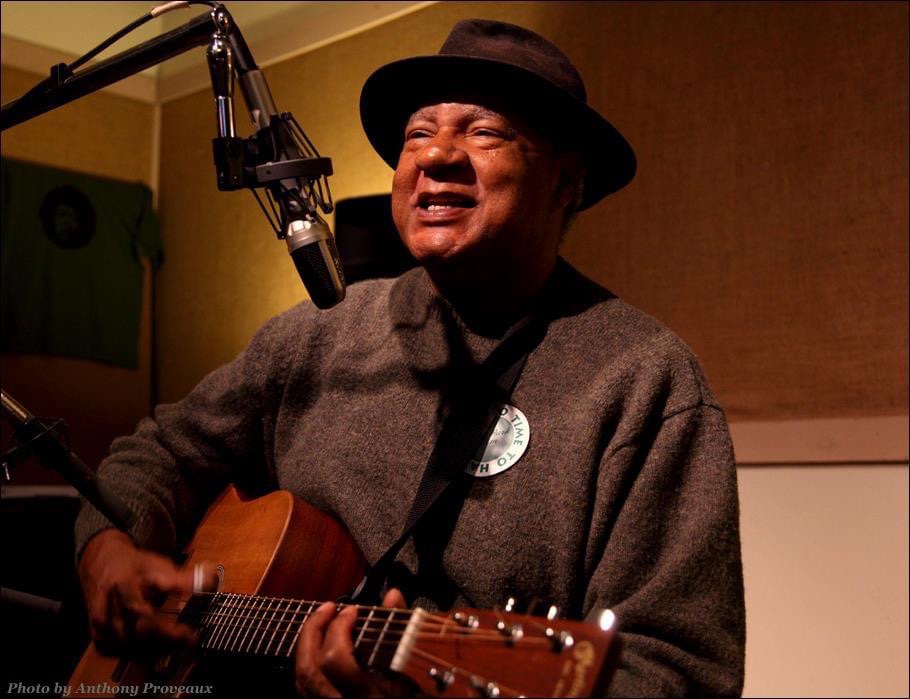 His influences: Sonny Boy Williamson, Muddy Waters, Little Walter, Chuck Berry, Joe Cocker, Keb Mo, The Red Hot Chili Peppers.
He recorded "Baby Don't Let Me Go Homeless" with Keb Mo and was payed in classic fashion through Western Union.
He didn't like to fly, prefering travel by train.
He was a Rodney Dangerfield fan and memorized his jokes. He named Jan's cats after ex-girlfriends and she named her chijuaja Rodney Dangerfield.
He had pocket bottles of brandy, loved fried chicken.
Slim died in his sleep suddenly during a heatwave in August 2016. He was under a lot of stress from moving and his heart just gave out on him. He'd had two heart surgeries that gave him an extra ten years than what he was expecting and had a pacemaker placed nine months before he died.
All of the songs he wrote came from his daily experiences and feelings and he made most of his money, just enough to get by, through busking.
He loved the rain but he loved the sunshine too because that's when people came out and he loved to be around people and watch people. He loved to tell stories about the places he played.