Genre: Reality TV.
Premieres: January 20th, 2017 on ATN (American Television Network).
Premise: An arrogant and narcissistic bully with thinning hair resembling a corn husk and skin the color of orange marmalade capitalizes on his wealth and privilege to buy the American election and becomes President of the United States.
Review: Donald Trump is the epitome of an ugly American—the sort of brash and aggressive vulgarian that leers at the ladies and laughs at his own sexist jokes. A vain, wealthy, privileged, and self-serving man, this Great White Dope of American nationalism seems to be willfully ignorant about the most basic issues a presidential candidate needs to know in order to meaningfully engage in politics. As such, he's an easy target for too-clever liberals and he's relentlessly mocked by television talk show hosts like Colbert, Noah, Maher, and Oliver.
And yet, the mockery is appropriate because Trump embodies Martin Luther King's warning that "nothing in the world is more dangerous than sincere ignorance and conscientious stupidity." He's a clear and present danger to the world because of his delusion that he possesses the knowledge and intelligence to lead his country.
Meanwhile, we've gleefully anointed our new King of Crass, smearing him with a myriad of derogatory names and crowning this Crotch-Fondling Adolf Twitler as the very model of a modern Groepenführer in livid colors of orange supremacy, highlighting his propensity for playing the part of a petty peacock proudly proclaiming his pussy grabbing prowess.
But some of us are complicit in the making and packaging of this low-brow tragicomic political figure of banality and terror—from the media that redundantly remixes and regurgitates the fetid exhalations that issue from his mouth to every person that shares those pieces (disguised as resistance) via the social media landscape. And, if the media is Dr. Frankenstein in this horror show then we are Frankenstein's hunchbacked servant, co-creating a monsterous slab of rancid meatloaf masquerading as man of the people.
Welcome to the Trumpocalypse.
***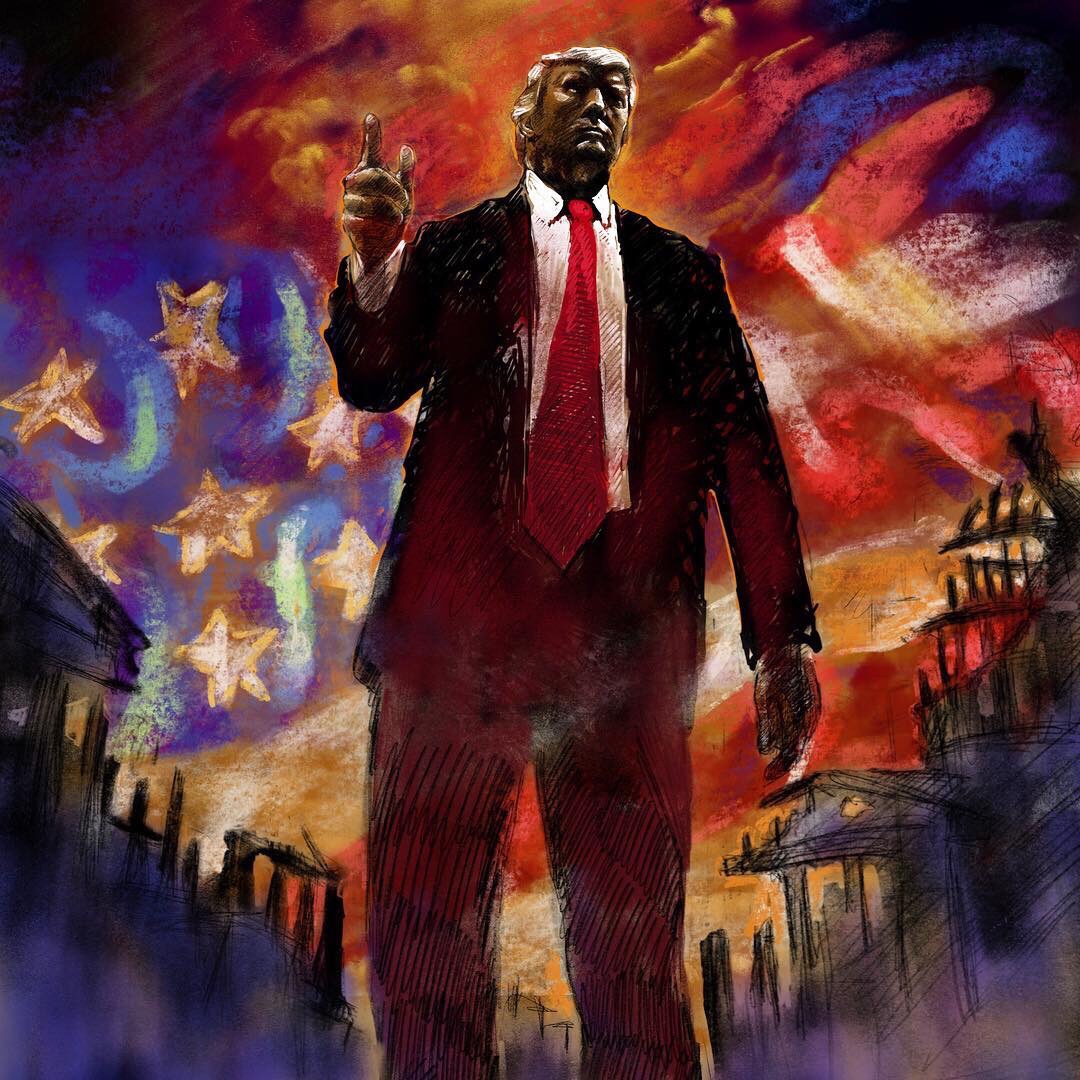 Cover image used with the permission of the artist, Peter Crompton.
***
For more scenes from the Trumpocalypse 336 Journal recommends reading Trump's comments at the United Nations and reading what our Martian neighbors think of his planned mission to Mars.